Automation of customer-oriented business processes to document interaction with customers improves product/service quality, a capability that is not generally possible with traditional telephony solutions.

iSoftPhone's integration with Daylite CRM provides instant access to your CRM Data On Demand.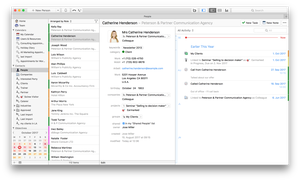 Daylite - Contact info


Simply click on the Daylite icon in iSoftPhone.

Allows users to make calls directly from Daylite CRM.

http://www.marketcircle.com/products/index.html

Checks incoming calls to match the number with a name in Daylite and displays names of Daylite contacts.

New contacts may be added to the address book and synchronized with Daylite after the call.

To make a call with Daylite, simply select the contact and click on the dial button.

Help Guide...